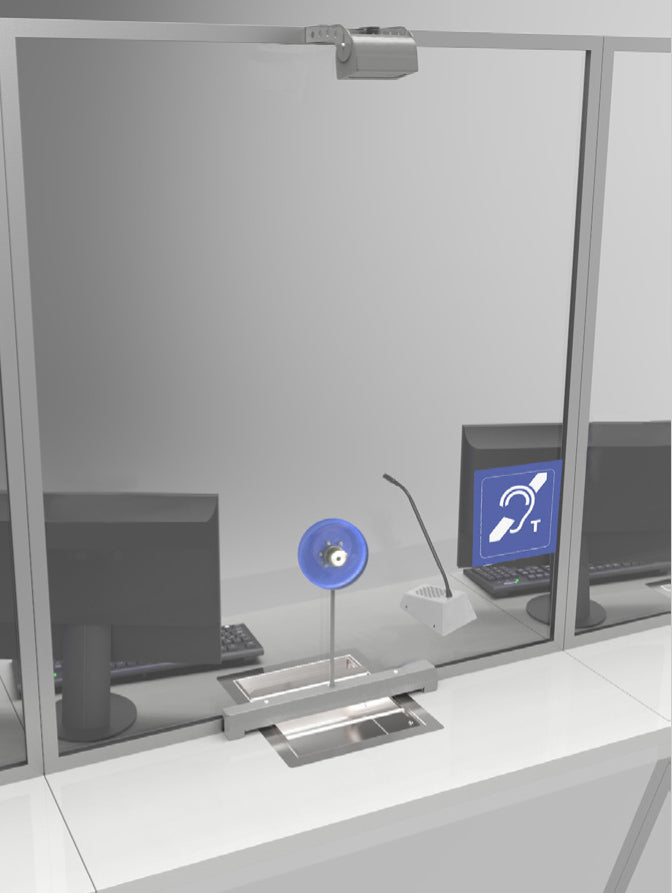 Contacta STS-K020 Window Intercom Retrofit Glass Mounted Kit
Regular price $1,795.00 Sale
FREE SHIPPING ON THIS ITEM
The STS-K020 Speech Transfer System is specifcally designed to retroft into a glass window where an existing system has left a hole in the glass. The glass mounted customer microphone is attached with two polcarbonate plates that are Level 3 Ballistic rated. The standard kit comes with the STS-S30 flush mounted customer speaker, STS-SU1 combined microphone and speaker unit for the staff and a glass mounted hearing loop aerial and sign.  Easy to follow instructions and Brown Audio Service, LLC tech support included.

For more information about the STS-K020 system, download our product sheet.
For more information about our other systems, download our Contacta Speech Transfer Window Intercom System.
Includes
• STS-A31H Speech Transfer Amplifer
• STS-S30 Surface Mounted Overhead Speaker
• STS-C100 Glass Mounted Microphone Kit
• STS-SU1 Staff Unit 
• PS-55 Power Supply
• IL-AE96 Window Mounted Hearing Loop Aerial

Applications
For use in transaction windows where one to one communication is impaired by glass, such as:
• Banks
• Post Offices
• Theaters
• Information Centers
• Public Transit Systems
• Ticket Counters
• Embassies
• Government Buildings

Physical Data

Dimensions (boxed)

Height – 5.12"
Width – 13.39"
Depth – 9.45"

Weight (boxed)

5.29lbs

Construction

Mild Steel

ABS Plastic

Finish

Grey Leatherette

Grey Semi Gloss

Black Textured
Product Codes

Retroft Glass Mounted
Kit with Surface Speaker

STS-K020-S30

Retroft Glass Mounted
Kit with Bracket Speaker

STS-K020-S22