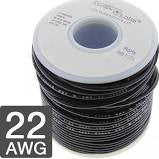 Hearing Loop Wire 100 ft.
Regular price $16.50 Sale
FREE SHIPPING ON THIS ITEM!
Hook up to any small domestic hearing loop driver such as the Contacta HLD3 to create a room loop.  Thin 22 gauge is easy to install and hide under carpets, on basement ceilings, or along moldings.  Available in white, black, or brown.
Spool: 100ft
Conductor Gauge: 22AWG
Conductor: Stranded Tinned Copper Wire
Strand Count: 7 strand